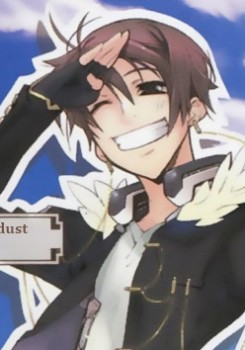 Description
Chat Handle: I 「俺」

A student of Class 3-Plum at Ariadust Academy. Also the Chancellor, Student Council President and Vice-King of Musashi.

Because of his lack of physical abilities, he was nicknamed "Impossible" by the Testament Union and appointed as the Chancellor of Musashi. However, due to his upbeat personality who doesn't know sadness, he is respected by everyone in Musashi.
After the destruction of Mikawa, he decides to save Horizon and gather the remaining Logismoi Oplo to give her back her emotions.

While he does not have any fighting abilities, his contract with an entertainment-type god gives him the ability to shares what belongs to him with everyone else. After he became Viceroy (which allowed him to access 1/4 of Musashi's ether reserves), this allowed him to share an endless supply of energy with the soldiers of Musashi. However, this ability comes at a cost, as Toori will die if he ever feels sadness.